Government Coronavirus Stimulus Packages – September 2020 Update
September 23, 2020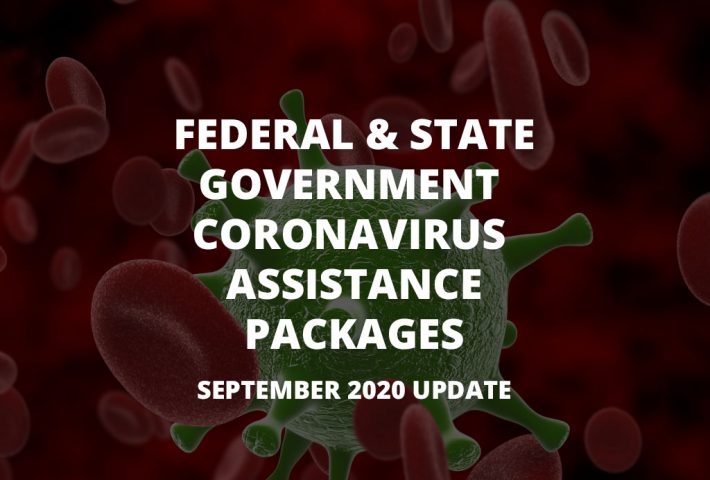 Since the Federal Government's initial Economic Response of $17.6 billion of stimulus measures were announced on 12 March 2020, we have seen extended closures for businesses due to the Coronavirus Pandemic, and as a result, both the Federal and State Governments have announced further economic measures to assist.
These measures include various business grants, JobKeeper, JobSeeker and various industry specific assistance packages.
Many of you who are currently receiving JobKeeper may become ineligible at the end of this month due to new regulations being enforced for the next fiscal quarter.
Calm Accounts can assist you to work out what you are entitled to claim and help you with claiming the benefits in order to keep your business afloat in these tough times.
Victorian Government Assistance Packages
The Victorian Government is investing $3 billion to help businesses impacted by ongoing restrictions and prepare for COVID Normal business.
$3 billion in cash grants, tax relief and cashflow support will be delivered to Victorian businesses that have been most affected by coronavirus (COVID-19) restrictions.
These measures include:
Licensed Hospitality Venue Fund
Sole Trader Support Fund
Third round of the Business Support Fund
Many of Calm Account's clients who are currently receiving JobKeeper will be eligible for the Victorian Business Support Fund grant – please contact us for more information or visit:
https://www.business.vic.gov.au/support-for-your-business/grants-and-assistance/business-resilience-package
Federal Government Assistance Packages
The Federal Government has announced that JobKeeper scheme has been extended from 28 September 2020 until 28 March 2021.
There are however changes to eligibility criteria so you must check to see if you are still eligible.
Further details can be found at:
https://www.ato.gov.au/General/JobKeeper-Payment/JobKeeper-extension-announcement/
Calm Accounts are here to help your business through this tough time, and we can discuss with you what grants and assistance packages you may be eligible for. Contact us today to see how we can help.
Further information can be found in the fact sheets available at https://treasury.gov.au/coronavirus/resources